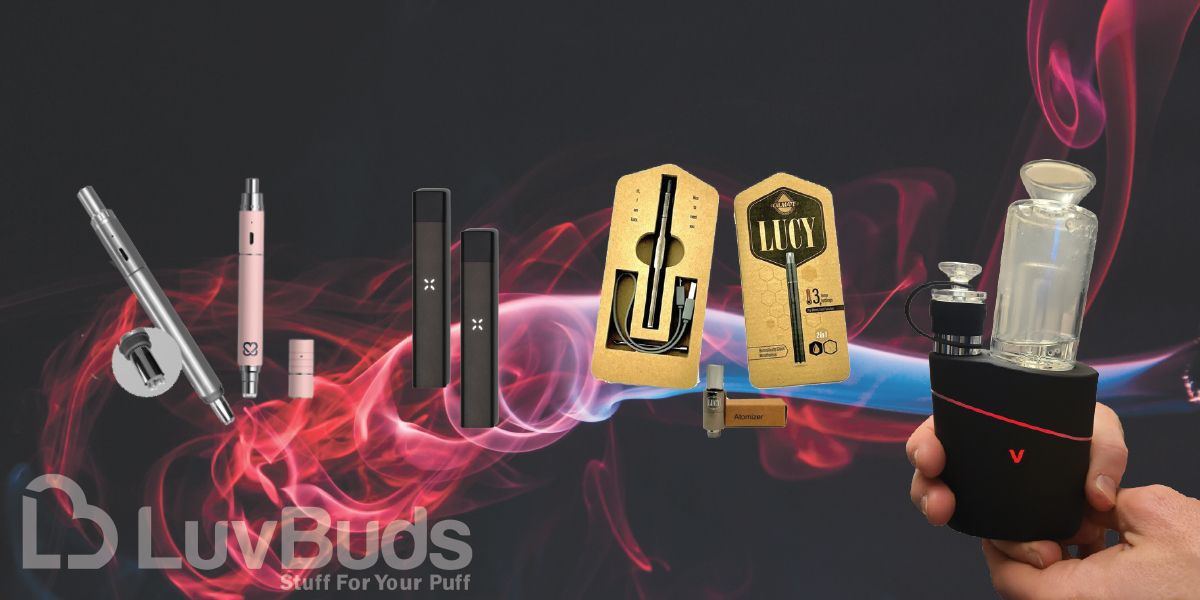 For those who love to smoke and are seeking quality smoking experiences, the market is flooded with an overwhelming number of smoking accessories. From high end vaporizers with high prices to quality smoking devices that are budget friendly, LuvBuds crew picked out our favorite quintessential smoking accessories for your best experiential puff.
For the smoking connoisseur, the VLAB Halo rises to the challenge in comparison to the higher priced and better known PUFFCO brand. Boasting a satisfying cloud where a little bit of product goes a long way, the VLAB Halo shines and delivers. Using an upgraded SiC bucket - the puff is smooth, provides incredible flavor and enhances any smoking product. The VLAB Halo has three temperature settings that are easily identified by color in the "V" light on the body of the vaporizer so you can get your blaze heated perfectly. As a side note, the VLAB SiC bucket fits into a PUFFCO Peak, with some wiggle room, and consensus is that once you use a SiC bucket - there's no going back to a ceramic, quartz or titanium. The VLAB Halo is top shelf for the discerning smoker.
Tech minded smokers should invest in the smart PAX Era. Not only is there a variety of oil available for your smoke, with its copyrighted PAXSmart™ technology, you can download the app and control the PAX Era via your phone or desktop. Boasting a customized experience, the user can control all aspects of the smoking experience. You can pick a color for the light on the body based on your mood, you can turn on haptic experience, and there are even games like "PAX Says" and "Spin the PAX" when you are entertaining with friends. Gadget lovers who smoke will find entertaining times with the PAX Era.
For the eco conscious smoker, the LUCY by Oilmate is a fantastic portable smoking electronic . Packaged in recycled materials, we love its appeal to the earth conscious and the accessories are packaged the same way. It has a borosilicate mouthpiece and the magnetic quartz atomizer so you won't lose it if you need to clean it. The Lucy atomizer is replaceable so you don't have to worry about waste in comparison to throw-a-way devices. The smoking experience is smooth, easy, and less packaging waste is a win for Mother Earth.
For the budget conscious who like to dab 'n go but want a full smoke experience, the Boundless TERP pens are our top pick. It supports an easy, smooth, and big smoke experience without the price of devices hiding behind brand names with big marketing budgets. The Boundless Terp Pens are inhale activated, capable of massive draws and no fancy configurations or settings to play with. Just inhale and go! They are only 30 dollars retail, boast a three year warranty on the device and 90 days on the coils! As a bonus for longevity, the Boundless coils are replaceable in two packs for under 20 dollars! Your smoke experience is Boundless with this terp pen!
Whether you're a smoking connoisseur, tech gadget junkie, eco conscious or a budget minded smoker, our LuvBuds crew picks should satisfy each experiential smoking need. These quintessential smoking accessories support all lifestyles, budgets and VIP smoking experiences. With much LUV, enjoy the stuff for your puff!